The Team at Merton Centre for Independent Living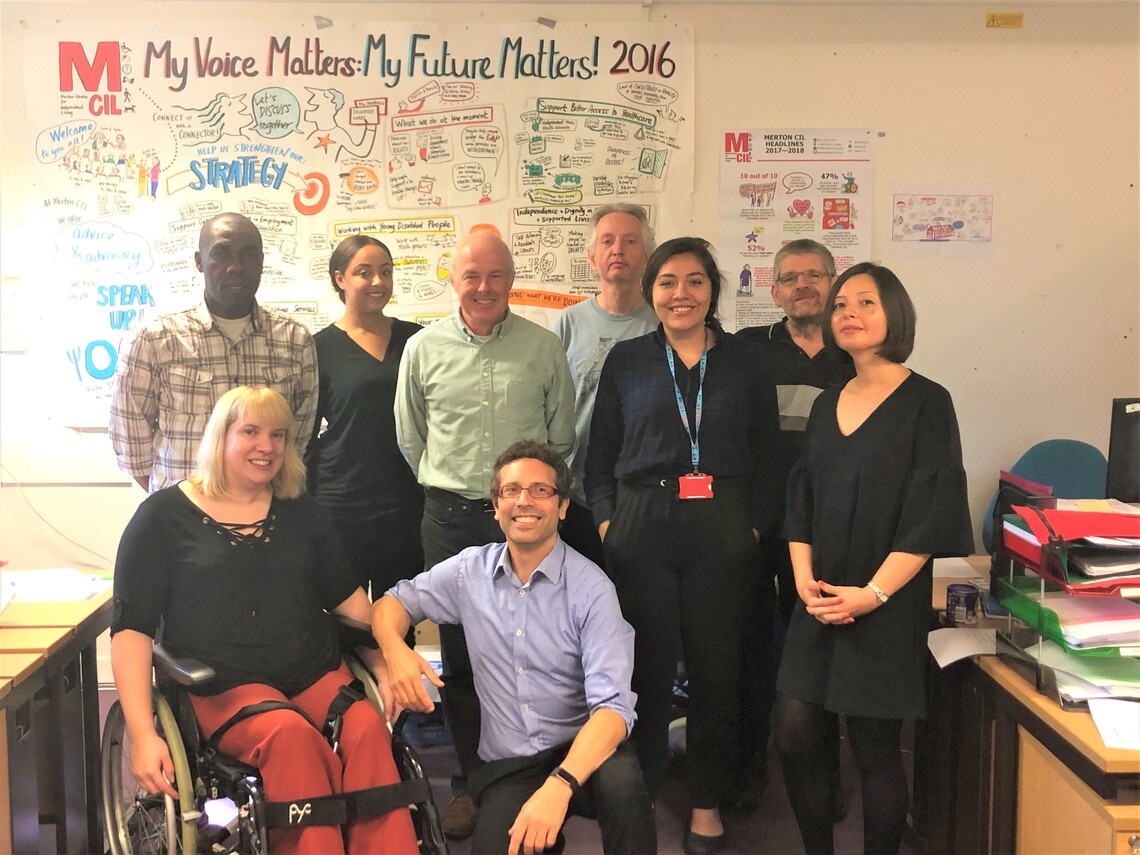 Photo above: Staff at Merton CIL September 2019
You can find out a little more about the team at Merton CIL below:
Tom Lichy - CEO
Tom joined Merton CIL as CEO in August 2019. Tom is a deaf BSL signer with ADHD. He has a background in technology, campaigning, and politics. Originally from Cornwall, he moved to London via Spain in his mid-twenties. Tom lives with his partner, a theatre director and their two deaf daughters.
Senior Managment Team
Stuart Butler - Advice and Advocacy Service Manager
Stuart is our Advice and Advocacy Service Manager. Stuart has an extensive background in advice and advocacy, joining us from Citizens Advice. He read classics at Kings College London, has a degree in Law from Birkbeck, as well as Postgraduate Diploma in Legal Practice from the College of Law.
Michael Turner - Policy and Strategy Manager
Michael joined Merton CIL in April 2018. He has worked in the disability field for many years within a range of organisations. Before joining Merton CIL he spent eight years working on co-production with the Social Care Institute for Excellence.
David Jenkins - Project and Evaluation Manager
David joined MCIL in April 2019 with a focus on the evaluation of Disabled Hate Crime across a number of London boroughs. David has an Economics degree from University College Cardiff as well as a Diploma in Marketing and has previously held senior positions in Nielsen Market Research, HJ Heinz and IMS Consumer Health.
Charlotte Wilson - Communications & Office Manager
Charlotte looks after communications and supports with the running of Merton CIL. She is also runs our Craftivism and Chat group. Charlotte joined Merton CIL in May 2015 and graduated from Brunel University, with degree in Law.
Front Line Team
Karly Francis - Senior Caseworker (Community Care)
Karly joined in May 2015 and specialises in health and community care. Karly has past experience in advocacy as well as having graduated from Hull University with a degree in Physics. Karly trains in Disabled water skiing.
Lizzie Wilson - Caseworker (Hate Crime)
Lizzie is our Hate Crime caseworker. She joined Merton CIL in 2017. Lizzie has a Masters of Law.
Nick De Bessou - Caseworker (Welfare)
Nick joined Merton CIL in 2017. He is currently studying for a Law Degree and has a background advocacy. Nick specialises in welfare benefits and appeals.
Pippa Maslin - Trainee Caseworker
Pippa lives in Merton and joined Merton CIL in October 2018. She has been a secondary school teacher and a university tutor, and has completed a master's and a PHD.
Paula Brown - Trainee Caseworker