Craftivism & Chat Packs
We created Craftivism & Chat packs during the pandemic. We wanted to provide local Deaf and Disabled people with creative ways to speak up and push for change.
Ways to stay creative and push for change this holiday season! - You can download a PDF of the poster - Here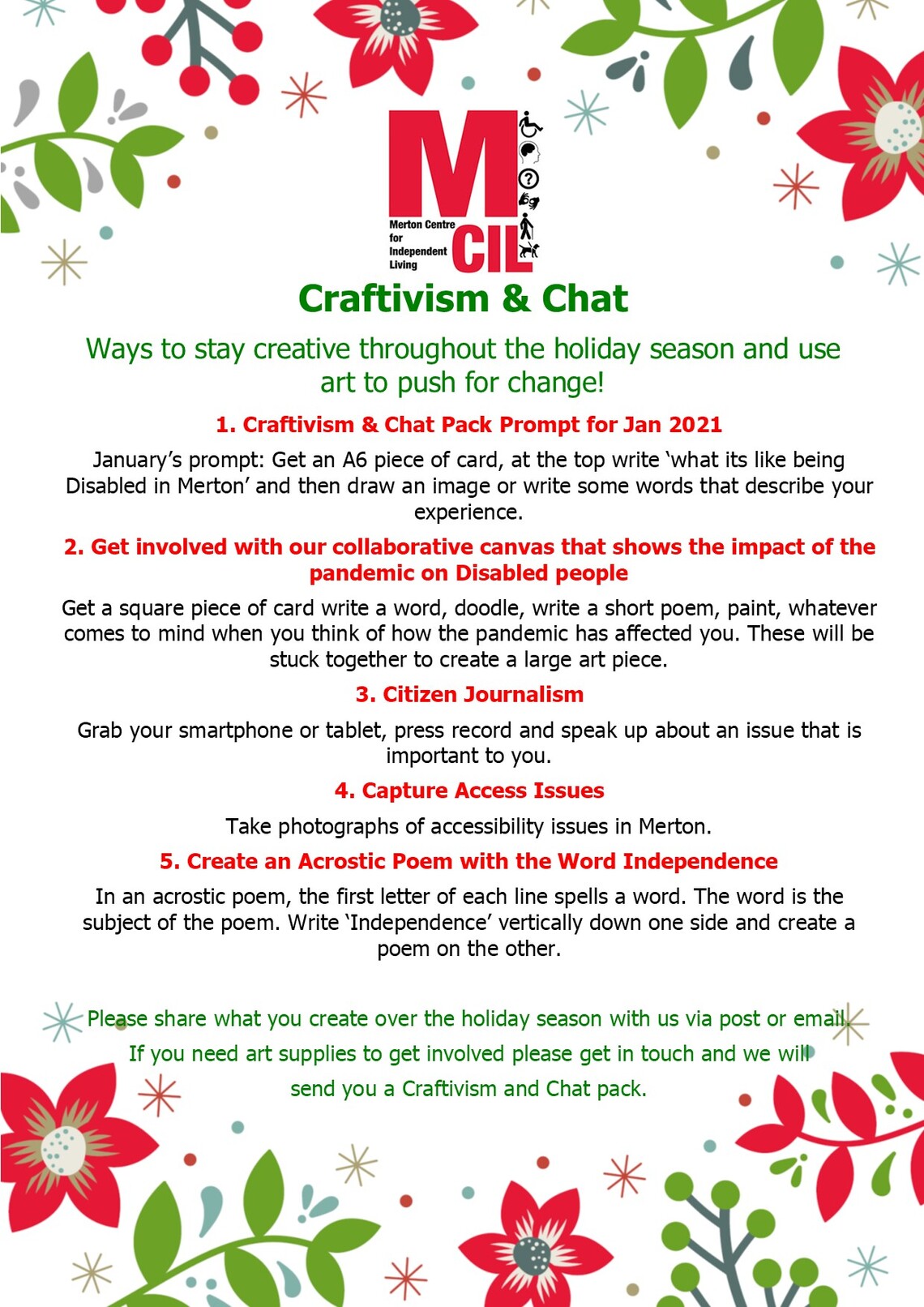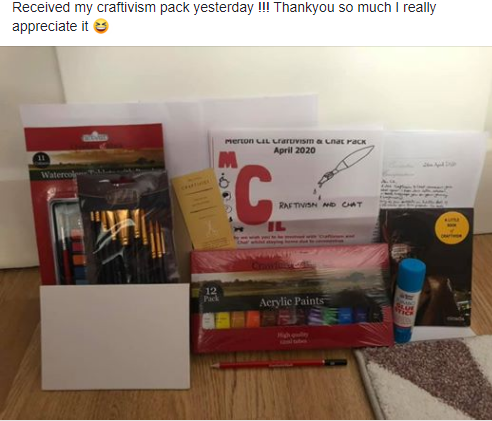 Photo above is a post from Merton CILs Members and Supporters group on Facebook
Why we wish you to be involved with 'Craftivism and Chat' whilst staying home due to coronavirus
1. Help make change happen
Combining activism and arts & crafts is a great way to attract attention and help your voice be heard more. Craftivism provokes thinking and creatively encourages others to be part of improving our communities.
2. Stay connected and look after your wellbeing
One of the aims of our group is to reduce isolation and loneliness and we hope this work will continue whilst we are unable to meet up in person. Therefore, sharing our creations and speaking vulnerably about our worries allows us to create something special to connect and converse with others respectfully. Arts & Crafts is also a great way to slow down, reflect and recharge.
3. Using time for Changemaking
A lot of us have been considered high risk and have been in isolation for a number of weeks. If you are bored of Netflix and have run out of books to read why not join us in some Craftivism and Chatter using your hands, head and heart together?
4. Disability Arts are important
Disability art can help to highlight the issues faced by Deaf and Disabled people, be a catalyst for thought and action and is therefore an important part of the Disability Rights movement.
We had support from the amazing Sarah Corbett of The Craftivists Collective to pull together the packs & the reasons to get involved above. She also wrote a hand written letter to our members and fellow craftivists. Have a read below. A copy is included in all Craftivism & Chat packs.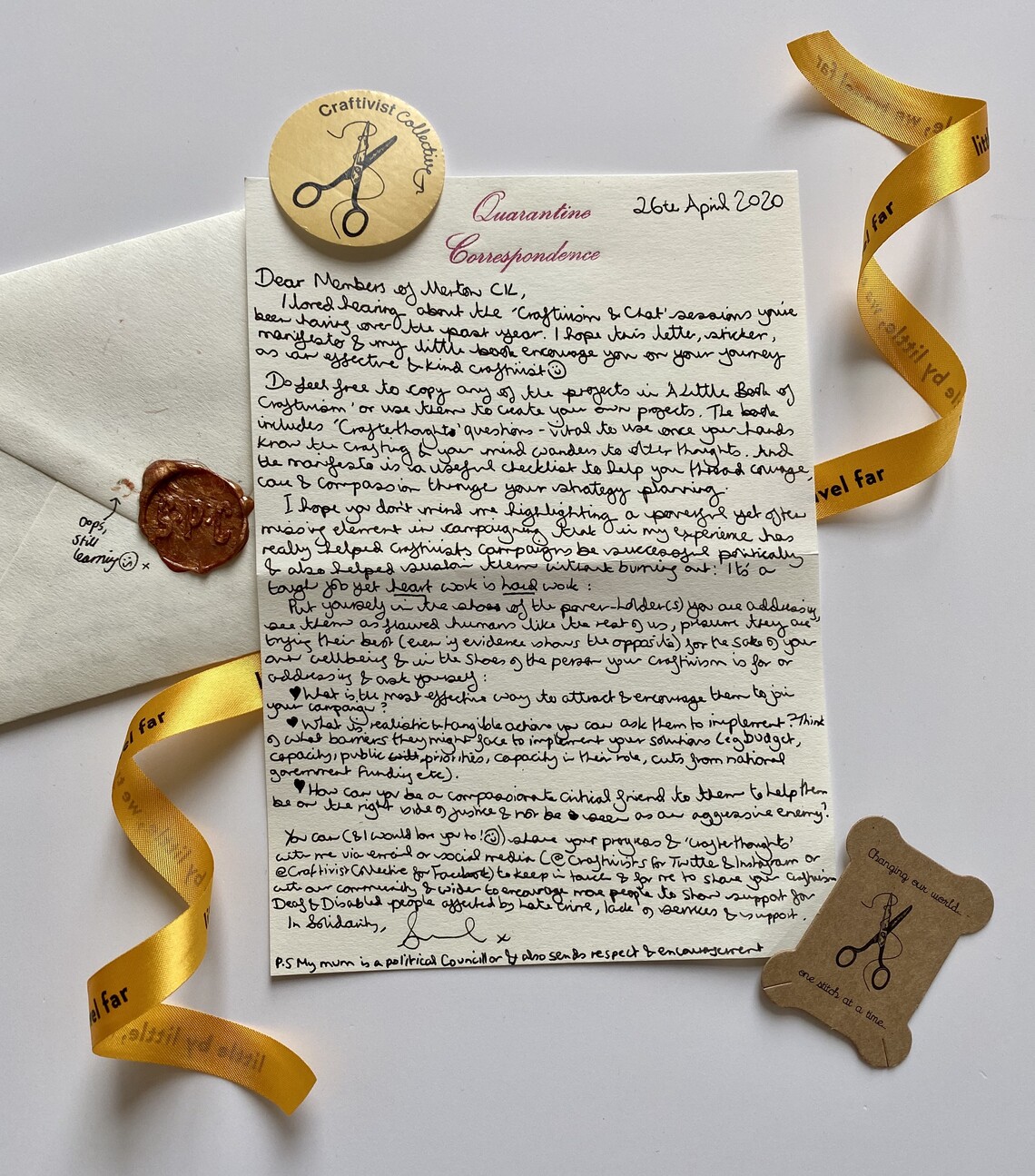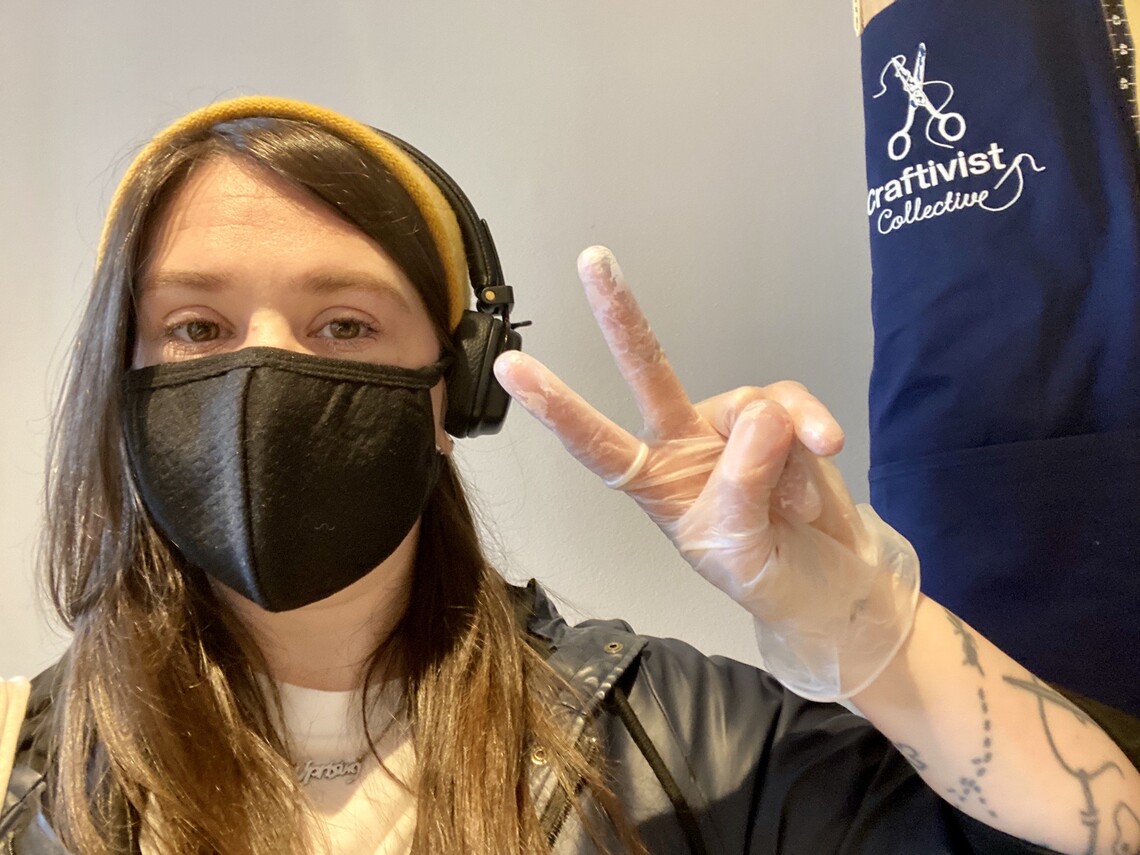 If you have your own materials at home but would like to get involved you can:
Download our Craftivism & Chat pack note here - Craftivism & Chat pack note
You can take a look at Sarah's Craftivist Manifesto here - https://craftivist-collective.com/blog/2018/10/presenting-our-a-craftivists-manifesto/
You can read more about Sarah and The Craftivists Collective here - https://craftivist-collective.com/
You can look read about past Craftivism & Chat groups here - https://www.mertoncil.org.uk/getting-involved/craftivism-and-chat/
And you can get inspired and take a look at some Disability arts here - https://disabilityarts.online/
Share what you create with us!
We would love to see all that you create, so that we can share it with our members and inspire them to get involved in Craftivism and Chat too.
You can share pictures of your arts & crafts with us by posting to social media and tagging us on the following platforms :
Instagram: @MertonCIL
Facebook: @MertonCIL
Or join our closed FB group: Merton CIL Members and Supporters
Twitter: @MertonCIL
If you want what you create to be shared anonymously or you create a video you can email us at info@mertoncil.org.uk
Or use the hashtag #mertoncil
If you are a member of Merton CIL or a Deaf or Disabled person living in Merton please get in touch to request a pack - info@mertoncil.org.uk
If you not a member of Merton CIL or a Deaf or Disabled person and would like a Craftivist pack please get in touch to discuss.