The EU Referendum: Should we stay or should we go? 2016
Merton CIL Prefers the Frying Pan, to the Fire

Background
Merton Centre for Independent Living is a user-led disabled people's organisation run by disabled people, for disabled people. We recently held a debate on the EU Referendum. We held this event because really very little discussion has been had on the impact of leaving or remaining in the EU on disabled people, and disabled people's lives. As well as all the national issues that are being debated, like the economy, sovereignty, the environment, or control over our borders, there are some specific issues for disabled people to consider.
At the debate we had 2 panellists supporting a "stay in" position, 2 panellists supporting a "leave" position, and a neutral Chair. The speakers were a mix of academics and activists, all with an understanding of disability or poverty. There were no politicians on the panel, as we are a non political organisation.
Here we present the case for leaving the EU and the case for staying in the EU and come to a conclusion about what we think the best outcome would be for disabled people.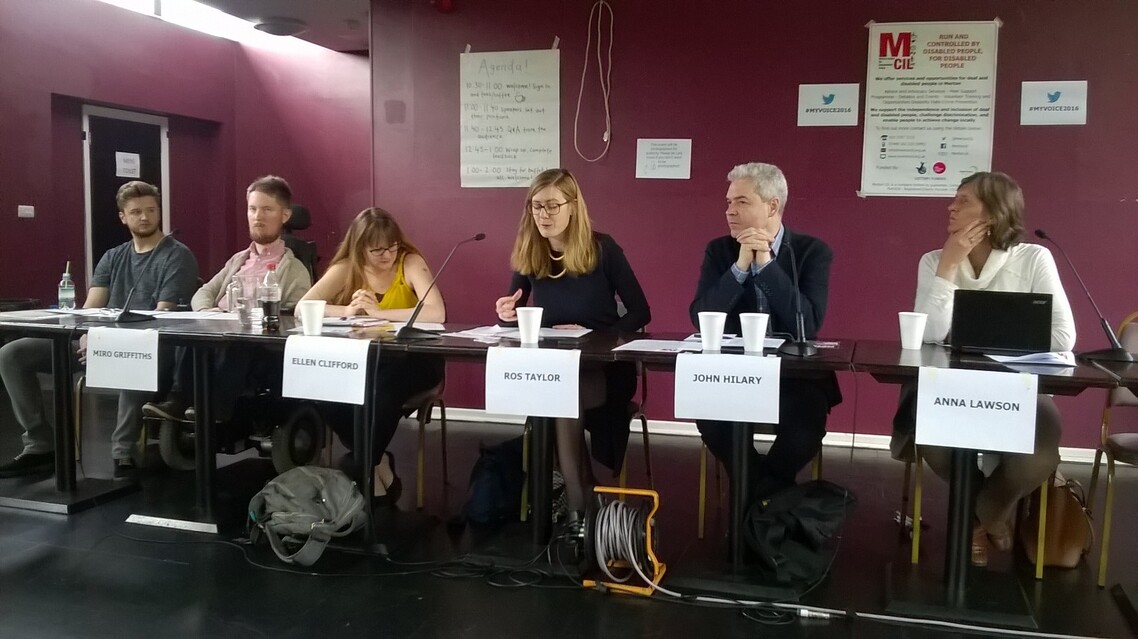 The case for leaving the EU
Our speakers put forward a position which opposes the EU, in particular the EU's commitment for cuts and privatisation, and an austerity agenda that makes disabled people and the poor pay for financial crises we didn't cause. This position says that not only has being part of the EU done nothing to stop the cuts imposed by the Government under the austerity agenda, the EU has actively enforced cuts and austerity in other countries such as Greece, Portugal, Ireland and Spain, impacting on disabled people and their communities there.
Our experiences as disabled people living under austerity in the UK bear out the adverse impact of neoliberalism and privatisation. We have discredited companies like Atos and Maximus making a profit from running benefit assessments that aren't fit for purpose and cause untold suffering and harm. We know that privatising education through academisation has negative impacts on disabled people's right to inclusive education, with schools selecting and discriminating against pupils with learning support needs.
The European Union is about a business agenda. It's about something that is good for the big corporations that want to have freedom of capital and the freedom to trade and invest as if there are no borders in Europe. In the past there were progressive directives brought in through "Social Europe", particularly anti-discrimination and workplace rights, and we still have the legacy of those rights. But, European Union institutions jettisoned the Social Europe agenda years ago. There is now a rush to privatisation. For example, TTIP is a specific agreement, being signed by the members of the European Union, with the USA. If the UK is no longer a member of the European Union, it cannot be part of TTIP, although it is perfectly possible that in the future we would join something similar.
Our speakers felt that it is an illusion that progressive change comes from on high. Real change can only be effected from grassroots movements below. Attributing so much credit to institutions like the EU for the introduction of measures to progress disabled people's rights is offensive and denies the enormously important role that disabled campaigners themselves have played in demanding and securing change.
There is no automatic link between EU membership and higher standards of support and inclusion for disabled people. If we look across Europe, we see routine treatment of disabled people that's scandalous. An exposé by the French newspaper Libération in 2014 revealed the terrible conditions suffered by thousands of disabled people sent to live in institutions in Belgium, while caged beds are still routinely used in some areas of Europe. In Norway, which is not an EU member, disability benefits are a universal right, while in EU member states these are increasingly limited. The argument that disabled people in the UK have too much to lose by leaving the EU is insufficiently convincing to justify voting in favour of an institution that acts so clearly in the interests of the 1%.
Regardless of the outcome of the EU referendum, some politicians in the Conservative Party are determined to take us out of the European Convention on Human Rights, which is separate to the EU.
In conclusion, our speakers felt that a vote to leave the EU would strike a blow against austerity, cause chaos in the Government, and would help the struggle for the rights of disabled people.
The case for remaining in the EU
Our speakers argued that there is a much better chance of getting near to the sort of inclusive and accessible world we want if we're inside the EU, than if we're outside it, because the EU gives us added opportunities to go forward and protects us against the risks of going backwards.
The EU gives us, at the grassroots level, opportunities for using structures to push for change and make things better. It does this because it fosters collaboration and exchange. We wouldn't have organisations like the European Network on Independent Living, without the EU. We wouldn't be able to participate in it if we weren't part of the EU. Organisations like the European Disability Forum and others have strengthened the European Disability movement, given an opportunity to grassroots organisations to come together, compare experiences, and think of creative ways forward.
We've heard a lot in national campaigns about all the money that we as the UK pay into the EU, but we haven't heard so much about the money that comes back from the EU, and how that's spent. In the billions of pounds that come back to the UK in structural funds, disabled people's organisations have benefited. It's estimated that in 2013-2014, 78,000 disabled people benefitted from EU funds to help them get back into work. In addition, accessibility and independent living are express priorities and preconditions in European funding.
There has been some important legislation at an EU level on discrimination, which has strengthened our discrimination laws significantly in relation to disabled people. Also, on accessibility of transport, air travel, requiring accessibility and assistance, coach travel, and train travel. In addition, there are proposals on the table for very exciting new legislation like the European Accessibility Act. It would mean that manufacturers have to comply with accessibility standards when they're making phones, when they're making computers, when they're making eBooks, when they're making ATM machines in banks or designing services like transport or banking, including online services that we use for buying tickets. All those would have to be accessible, and if they weren't, they couldn't be put on the market. Incidentally, it's the UK government that's causing a blockage to these innovations.
Our speakers felt that the debate should recognise that the approach taken by the UK government is to deliberately attempt to undermine the EU when it comes to issues of social justice and rights. In fact, the previous Coalition government put the Equality Act on the Red Tape Challenge list because it regarded equality law as bad for business. It couldn't repeal it then because we were party to the EU. If we leave the EU, this could be repealed.
On the European Convention on Human Rights (EHRC), it's a pre-condition for any country joining the EU that it's also signed up to the EHRC. So, if we stay in the EU, that's going to make it very difficult for us to leave the EHRC, which does contain a number of protections for disabled people and has been used for example in cases fighting the Bedroom Tax. If we leave the EU, then it's going to be a lot easier for the Government to remove the UK from the EHRC, as has been suggested they want to do.
There is a risk of significant economic damage if we leave the EU. There are contesting views on that, but there are a lot of authoritative sources saying it's a serious risk. If that happens, the recession is going to deepen, and who will have to pay the price? Disabled people, as always.
In conclusion, our speakers felt that nobody agrees how the UK would function post-referendum if we were to leave. We could end up with a destabilised government or renewed austerity targeting disabled people, as well as regression of our rights.
In Conclusion
As described by one of our speakers, to a certain extent, this is a choice between the frying pan and the fire, and there are strong feelings on both sides of the debate. What is clear is that this is very likely a forever decision which affects not just us, but also future generations, so we need to get it right.
Clearly, the EU is not perfect, and the inclusion of disabled people and stronger rights needs to be fought for by disabled people ourselves. In addition, the specific context for disabled people in the UK is that under austerity, disabled people's rights are regressing, and we need to speak up against this.
We recognise that disabled people, our members, service users, staff and supporters, will have a range of views and backgrounds which will influence they way they will decide to vote. The most important thing from our perspective, is that disabled people speak up, and do vote in this Referendum, regardless of the position they take.
However, on balance, based on the evidence currently available, our position as an organisation is that it would be better for disabled people if we remain in the EU. We have come to this decision primarily because we believe that leaving the EU carries a greater risk for disabled people, and a greater chance of having our rights eroded, than remaining in the EU. In essence, we prefer the frying pan, to the fire.
Please see coverage of the event via SW Londoner - from 8:14
Further information
We would like to thank our speakers as well as the audience at the event on 26 May 2016 for an informative, robust, and civilised debate. Our speakers were:
Ros Taylor (Chair), editor of LSE Brexit blog and freelance journalist

Ellen Clifford, works with Disabled People Against Cuts and a number of disabled people's organisations, and is a campaigner and activist

Miro Griffiths, is a Disability Issues Campaigner and Teacher/Researcher at Liverpool John Moores University

John Hillary, is Executive Director of War on Want whose mission is to fight the root causes of poverty, inequality and injustice.

Professor Anna Lawson, Director for Centre of Disability Studies, Leeds University
Please do remember that all our speakers attended the event in a personal capacity and were not representing the organisations they are involved with.
For more on the issues and to inform yourself, below there are a number of links to articles for both an in and an out position, on our website, as well as neutral positions. We hope you find these articles interesting and informative
Ros Taylor chaired the event and is editor of the LSE BrexitVote blog which aims to inform the debate surrounding the referendum on Britain's membership of the European Union with accessible commentary and research: http://blogs.lse.ac.uk/brexitvote/recent-posts/
Labour Member of the European Parliament Richard Howitt has said current and pending European legislation will greatly improve the rights of disabled people. To read the full article, please see the links: http://www.theguardian.com/social-care-network/2016/mar/11/brexit-could-undermine-the-rights-of-disabled-people http://www.eurolabour.org.uk/ten-million-disabled-people-will-lose-out-if-uk-leaves-eu
Dr Bronaygh Brynagh a lecturer from Queens University London specialising on disabled policy also agrees.To read these views, please see the link: http://qpol.qub.ac.uk/brexit-and-disabled-people/
Ellen Clifford, from DPAC, and one of our speakers, says we should leave the EU: http://dpac.uk.net/2016/03/eushould-we-stay-or-should-we-go/ and supports the left leave campaign http://www.leftleave.org/ rather than the official leave campaign (see below)
Debbie Jolly, from DPAC, says we should stay: http://dpac.uk.net/2016/03/why-we-should-say-yes-to-the-eu/
Anna Lawson (Professor of Law and Director of the Centre for Disability Studies, University of Leeds), Gerard Quinn (Professor of Law and Director of the Centre for Disability Law and Policy, NUI Galway) and Hywel Ceri Jones (former co-chair of the European Consortium of Foundations on Disability Rights) have written to argue that Disabled People and their Families are Stronger and Safer inside the EU. Anna was one of our speakers at the event. How EU benefits disabled people
Vicky Dermott CEO of disabled Charity Papworth Trust says Cameron should negotiate a better deal within the EU for more disabled rights. Please see the full article below: http://www.huffingtonpost.co.uk/vicky-mcdermott/forgetting-something-prim_b_9112192.html
The Papworth Trust have published their views on the EU Referendum too: here
One of our speakers was Miro Griffiths, campaigner, lecturer, and researcher and he is quoted in this article from from Disability News Service: http://www.disabilitynewsservice.com/brexit-would-have-dire-consequences-for-disabled-people/
Another speaker was John Hillary, and he has written about his concerns with the EU and in particular the TTIP, you can find out more here: https://www.opendemocracy.net/author/john-hilary-0
Another site offering a range of options is Through the Roof: http://www.throughtheroof.org/briefing-on-the-eu-referendum-from-a-disability-standpoint-ros-blog/
The Joseph Rowntree Foundation have prepared some briefings on how the outcome of the EU Referendum could affect people in Poverty: here
SPECTRUM Centre for Independent Living commissioned some research on the impact of Brexit on disabled people, and based on that have come out in favour of a "Remain" position. You can read more on that here: https://spectrumcil.wordpress.com/2016/04/27/vote-to-stay-in-europe-spectrum-urges/
Official Campaign Wanting to Leave the EU

The 'Leave.EU' campaign is the official group lobbying for Britain to no longer be a part of the European Union.
Website: http://leave.eu/
A few of the politicians involved in the 'Leave.EU' campaign are listed below:
Conservatives such as Michael Gove, Boris Johnson, Iain Duncan Smith.

Labour MPs, including Gisela Stuart and Graham Stringer

UKIP's Douglas Carswell and Suzanne Evans

the DUP in Northern Ireland.
Official Campaign Wanting to Stay within the EU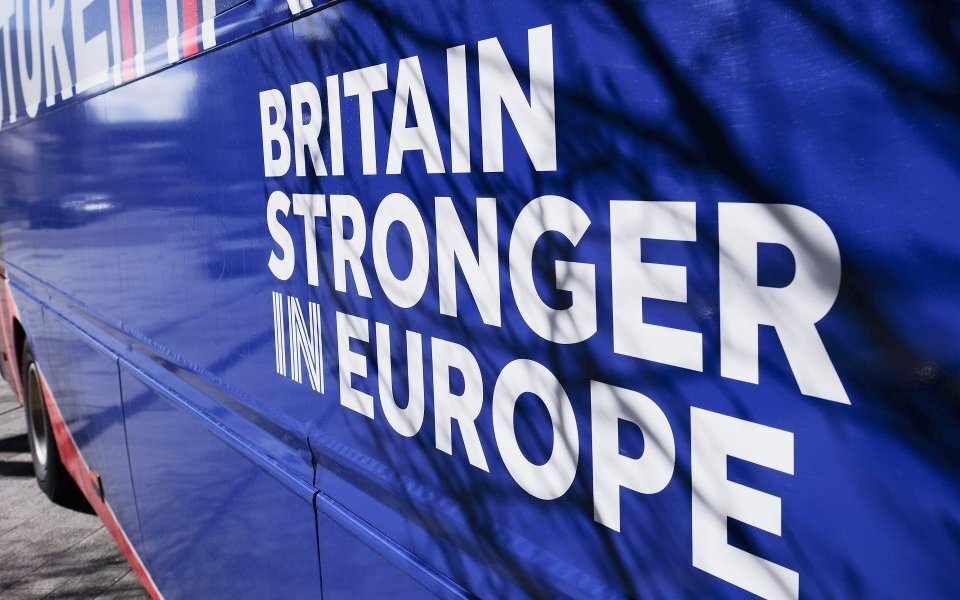 'Britain Stronger in Europe' is the official group campaigning for Britain to remain in the European Union.
Website: http://www.strongerin.co.uk
A few of the politicians involved in the campaign are:
Conservatives Prime Minister David Cameron and George Osborne

Most Labour MPs, including party leader Jeremy Corbyn

the Lib Dems,

Plaid Cymru,

SDLP in Northern Ireland

Green Party
The information above is taken from this handy BBC guide: http://www.bbc.co.uk/news/uk-politics-32810887
For an EasyRead special on the Referendum, check out EasyNews produced by United Response by following the link http://www.unitedresponse.org.uk/easy-news or use the download EU_Referendum_Special
Mencap have also produced an EasyRead version, which can be downloaded here: EU_referendum_final