Independence: What does it mean to you? 2016
Independence: What does it mean to you? was held on 22nd February, building on from 'World Day of Social Justice' on the 20th February. We advance social justice when we remove barriers that people face because of gender, age, race, ethnicity, religion, culture or disability. Therefore, we pushed the discussions in the direction of self directed support, personalisation, what independent living actually means and why it is so important.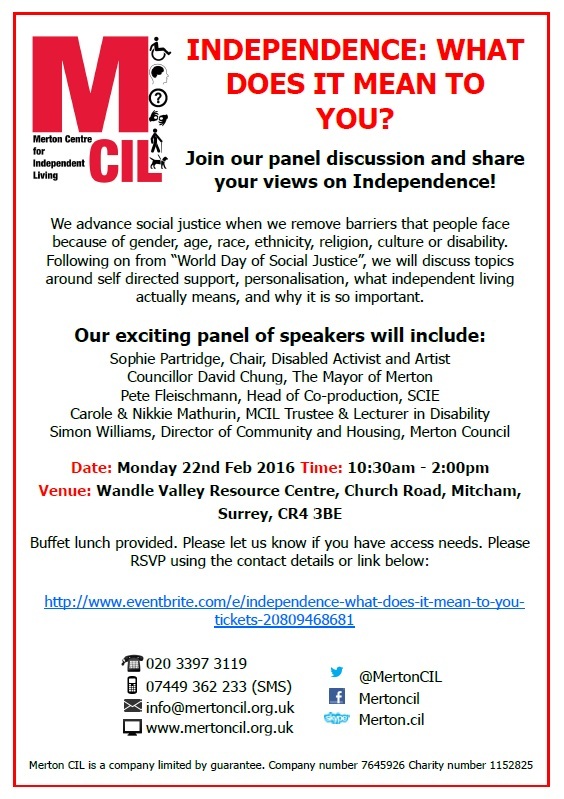 The Panel
We had a great panel of speakers who shared their personal perspectives on independence as well the realities and restrictions they face.
The event was chaired by the fabulous Sophie Partridge (Disabled artist and activist), who kicked things off by discussing how she felt the term independent living was a bit of a misnomer as it was just a fancy way to describe a life most people take for granted. It is about wanting the same opportunities as everybody else, which kind of equates independence with freedom
Councillor David Chung – The Mayor of Merton discussed independence and how being a grandparent and influencer gives him that. The Mayor also spoke of consolidation of experiences and how that impacts independence. He also mentioned how team work can help others who struggle with independence.
Pete Fleishmann (Head of Co Production at Social Care Institute for Excellence) decided to discuss independence from a more personal standpoint, and less of an organisational perspective. During his youth he suffered from poor mental health and felt that the system did not correctly address the issues. He mentioned the importance of having support both socially as well as medically and described independence as having choice and control over your daily life as far as possible.
Carole Mathurin (MCIL Trustee and Carer) began her speech by portraying a few of the bleak realities of being a carer. One of those being that she is paid less than 50p per hour, based on a £62.10 a week over 18 hours per day, 7 days a week and that doesn't include nights. She discussed her lack of independence and the importance of interdependence within society.
Nikkie Mathurin (Lecturer in Disability at St Georges) spoke of her previous lack of independence and how landing a role as a lecturer at St Georges gave her back a sense of independence. Nikkie went on to equate independence with having a choice. And, concluded by speaking about how she did not feel comfortable as a disabled person in the past, but now does.
Simon Williams Director of Communities and Housing, London Borough of Merton. Unfortunately, due to an unforeseen circumstance, Simon was unable to make the event but we did manage to put together a list of key areas we would like to discuss!
We would like to have a dialogue about how independence is defined, because our views are different to what London Borough of Merton Says

Independence is not doing everything in isolation, by yourself. For a lot of us with the appropriate support, we self‑direct what we choose to do.

We need consistency in the care and support we use

We need a bit of commonsense – removing freedom passes will reduce independence and cost more in the long run
We are really grateful to all the speakers and attendees who came along on the day!
Here are some photos from the event: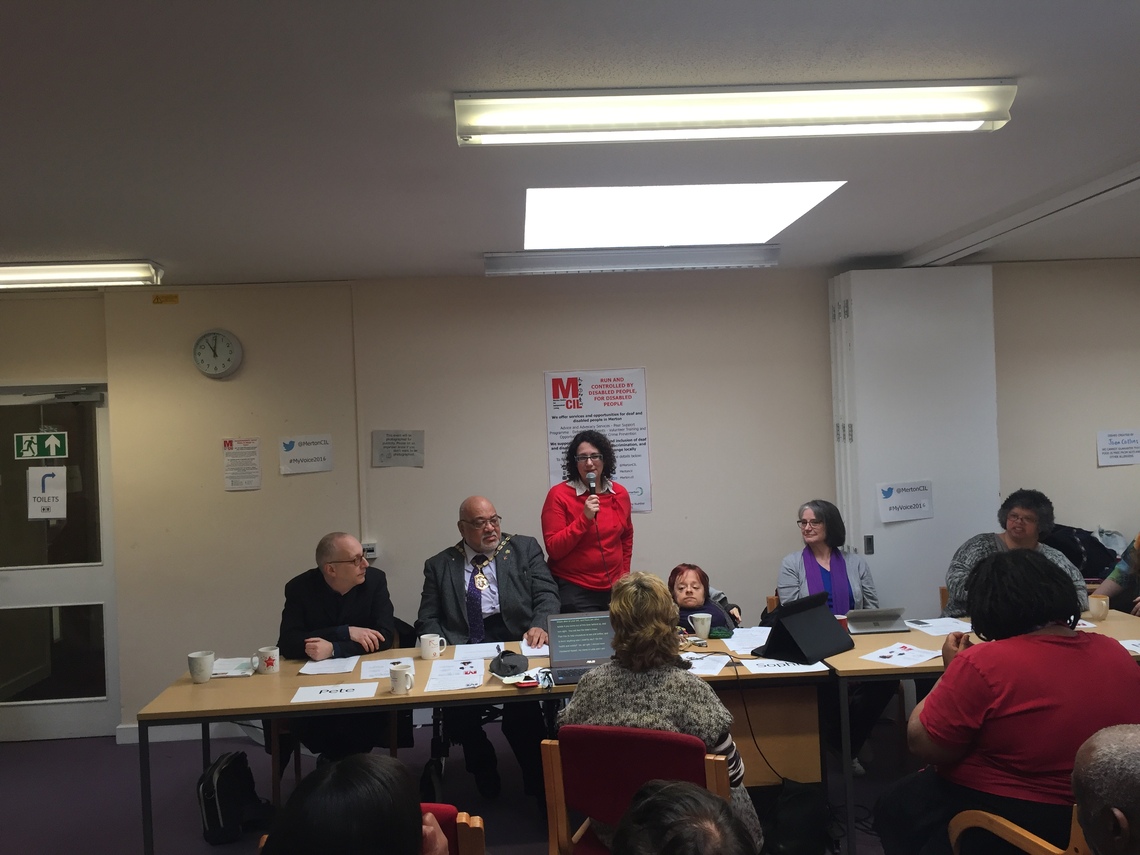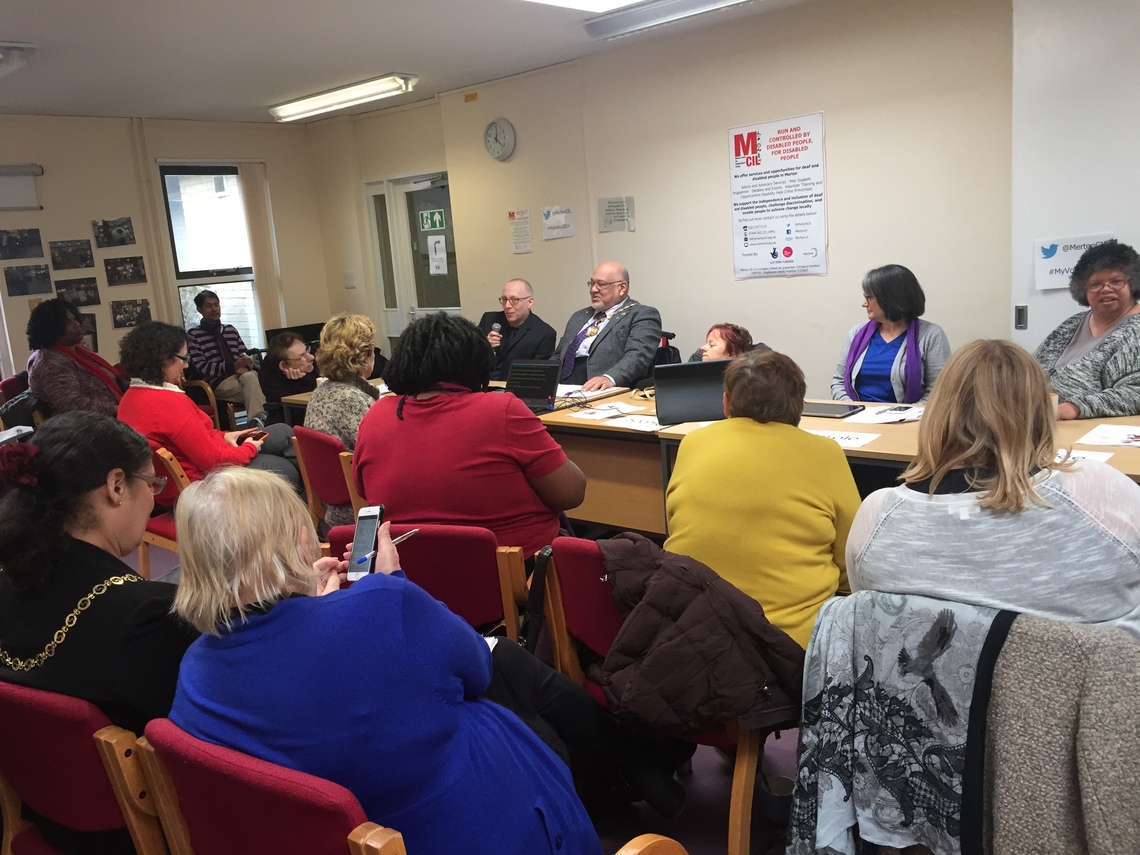 It is a time of significant change locally with deep cuts happening across local services impacting on disabled people's ability to live independently. At the same time, a national austerity agenda disproportionately disadvantages disabled people. Whether it is poor access to the local park, unwieldy wheelie bins, cuts to care packages or the end of Meals on Wheels, the views of disabled people in Merton need to be heard. So please share your views on independence with us
For extra information take a look at the independent living manual – http://ilnet.enil.eu/wp-content/uploads/2016/01/Independent-Living-Manual-FINAL.pdf