My Voice Matters 2015 - Let's Speak Out!
On December 3rd 2015 we held a fantastic event to support local disabled people to recognise that change is possible, and that disabled people have a long history of making change happen.
We invited a range of speakers, activists and change-makers to come along and tell us how they made change happen, and we made a short film of their Top Tips for Making Change Happen.
The event was opened by Mayor of Merton Councillor David Chung
and our speakers were:
- Gay Bennett-Powell, Save MAE. You can follow the campaign on Twitter @Save_MAE
- Claire Benjamin, #NelsonSays Campaign
- Kevin Caulfield, HAFCAC. They have a website http://www.hafcac.org.uk/ and you can see Kevin's presentation here: HAFCAC Presentation
- Doug Paulley, Disability Activist. Check out his website full of top tips here and see Doug's full talk too https://youtu.be/pzVOJOZvvIk
- Jackie Schneider, Accidental Activist. Jackie has an active Twitter feed, follow her on @jackieschneider
- Dominic Twomey, Amnesty International. Check out the Amnesty website for their latest campaigns here
We also have the Tip Tips as a poster, thanks to graphic facilitator Sandra Howgate see her website here - http://www.sandrahowgate.com/

'My Voice Matters' is our key consultative event of the year and is held on International Day of Disabled People. This is the fourth year it ran and it was hugely successful with over 60 attendees.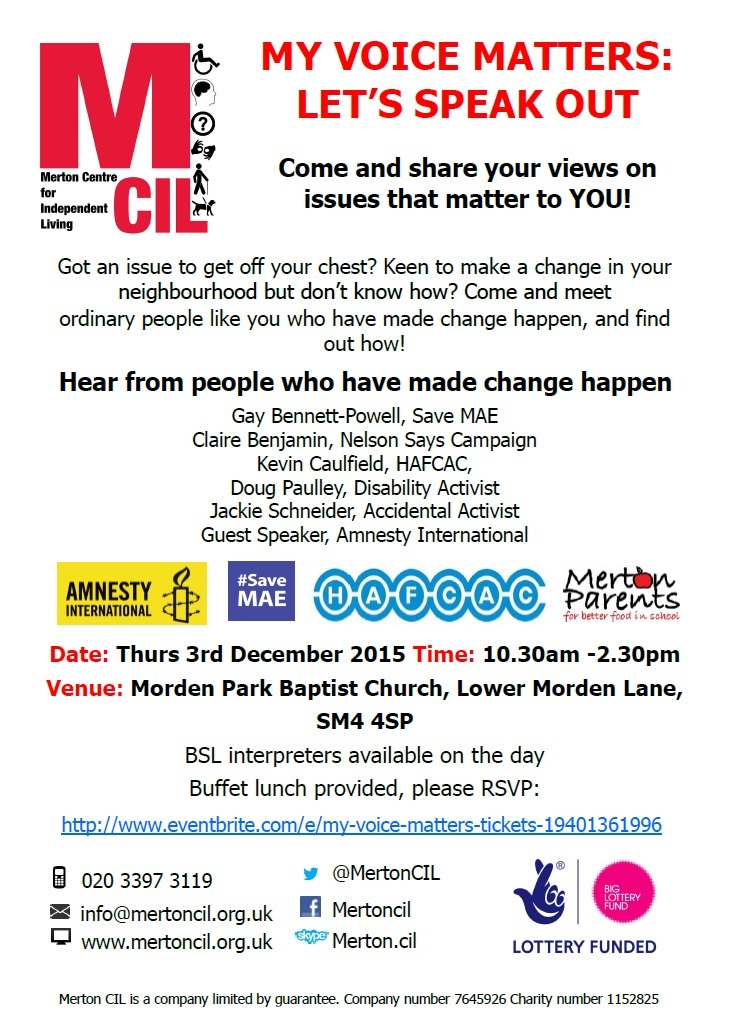 It is a time of significant change locally with deep cuts planned across local services impacting on disabled people's ability to live independently. At the same time, a national austerity agenda disproportionately disadvantages disabled people. Whether it is poor access to the local park, unwieldy wheelie bins, cuts to care packages or the end of Meals on Wheels, the views of disabled people in Merton need to be heard.
At the event we took a dynamic approach to supporting the audience to identify the issues that are important to them, and work out what they want to do next.
The majority of the participants were concerned about cuts to Adult Social Care by London Borough of Merton and shared thoughts and ideas for what they could do about this. At Merton CIL, this is also an issue we're really concerned about, and you can read about what we've been saying about these cuts on our website here
Other groups raised concerns about changes to Welfare Benefits and issues with District Nursing.
We're really grateful to all the speakers and attendees who came to the event and we're really excited to see how some of these campaigns develop!